Regular price
$ 349.99 USD
Regular price
$ 499.99 USD
Sale price
$ 349.99 USD
Unit price
per
Sale
Sold out
Length: 60 in
Width: 11 in
Wheelbase: 44 in
Weight: 19 lb
Wheel Diameter: 83 mm
Front Truck: HST 40° baseplate, 200 mm hanger
Rear Truck: HST 40° baseplate, 200 mm hanger
NOTHING like this in the world. Add a skate pole and you're done with your skateboards and longboards… It's OVER.
If you think you've seen the wild west of surfskating, think again.
Be prepared for new friends and selfies with strangers when you step outside on this high-order board.
Measuring at 5-feet in length from nose to tail, the beautifully sculpted natural walnut inspires images of Chris Craft's heritage speed boats. The painted deck decorations are inspired by the iconic Birdwell Beach Britches, Leg Stripes boardshorts.
The birch flex-deck brings surf dynamics that allows the cruiser to snap the tail and carve at extreme angles even at top speed or weave through people with ease. This deck is long thin and narrow, making it more stable than the Pinger, but it also is able to twist and flex at the same time, just like a snowboard deck. Try it once and you'll feel it right away.
Whatever your fix is, cruising, carving, noseriding or barrel roll, prepare for the ultimate high.
There are no barriers to entry. But expect to be noticed as a Pro.

But do you want to know the real reason why pro skaters and surfers stoke the Logger?
The Logger features a 9 ply 16mm hand-crafted baltic birch deck with either natural walnut or a custom heat transfer decoration on the top deck. The patented 200mm HST Carving trucks and massive 83mm cast polyurethane wheels offer a ride that is shockingly familiar to longboard surfers and longboard SUP Surfers alike. This surfskate is a head-turning longboard surfskate board.
Mounted on massive 24 mm riser blocks are a pair of patented 200mm HST carving trucks cast from virgin aluminum and heat treated for relentless thrash. A 40° pivot axis angle gives 30° degrees of board lean and allows the ultimate rail-to-rail flow, 30 degrees of board lean and extreme carving angles. Don't be afraid of this board, lean in… it's not afraid of you.
The gold springs yield a whopping 25 pounds force against the wheels, that allow this to glide through road imperfections like an off-road vehicle. The gold springs give just enough of a snappy return to center and truly feel like surfing. On the road, the Hamboards signature chocolate brown 83mm cast polyurethane wheels are buttery smooth and literally kick-out small rocks before you can ride over them.
View full details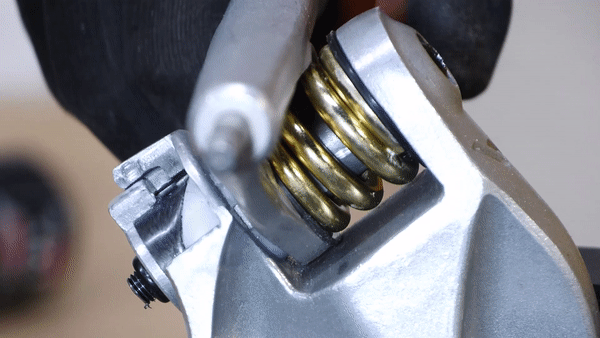 HST Trucks are different
Most skateboard trucks have flexible bushings which allow them to flex and rotate. Our patented HST Trucks use stiff springs and spherical wave cams that translate axle rotation into spring compression. These massive springs store the energy then give right it back to you. You don't need to lift the front to turn, just turn the board. HST trucks have smooth consistent rotations. The springs give strength and stability that enable the wheels to glide over road imperfections like you wouldn't believe.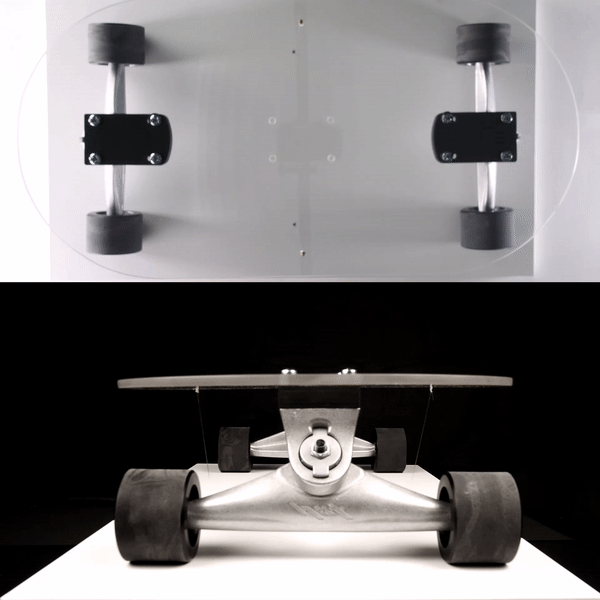 Rotation and Lean
Our patented HST Trucks were designed to simulate a surfboard on water. Do not expect them to feel like other skateboard trucks. They are so responsive that some people call them loose.

Our trucks rotate up to 20° in both directions and lean up to 30°. This movement is much greater than most other skateboard trucks.
When you turn on HST Trucks, you feel like you are riding on an airplane wing in a banked turn. You get the sense that you are riding on the edge of your board, much like it feels to ride on a snowboard or a surfboard.
They also give just enough of a snappy return to center and truly feel like surfing.
To learn more about HST trucks and our progressive truck system, click here.
Same Lean, Different Rotation
With our HST truck system, you can purchase trucks with three different pivot angles. You can see that our three baseplates provide the same amount of lean. You can also see that the 0° truck does not rotate at all. The 20° truck rotates about 10° in each direction and the 40° truck rotates about 20° in each direction .
Button label