Regular price
$ 269.99 USD
Regular price
$ 269.99 USD
Sale price
$ 269.99 USD
Unit price
per
Sale
Sold out
Length: 26 in
Width: 14 in
Wheelbase: 14 in
Weight: 9 lb
Wheel Diameter: 62 mm
Front Truck: HST 40° baseplate, 200 mm hanger
Rear Truck: HST 40° baseplate, 200 mm hanger
A Surf Training Device
Designed with champion Surfer Cory Lopez to train competition surfers

TRUE RAIL TO RAIL ENGAGEMENT
NOTICE: This board has 30 degrees of board lean on a very short 16 inch wheelbase.  This thing screams TURN!  
***For Serious Surfers***
This board has insane turning capabilities. You gotta be prepared to ride this board with your shoulders and hips as if engaging your rail on trim. Surf: Don't Skate.  Even for highly skilled skaters, helmets and pads are recommended.  You know your skill level and you know your own limits. For a more approachable Twist Fin, try our OC Hula Twisted Fin.

We love your style but we also want you to take care of yourself. As the saying goes "Easy does it!" We don't want you going all out on your first ride. Get to know your board and bond with it before RIPPING it to the MAX.  When you're ready, practice your blow tails and tail whips all day long, but skate within your limits and wear safety gear to keep you safe.  
HST trucks are not swivel trucks. Unlike many surfskate trucks, our patented HST trucks use stiff springs and wavecams to provide rotation and control. With these boards, most of the pumping action is driven by your back leg/foot, not your front.
The concave and swallow kick-tail allow you to get leverage on the deck for tail washes and 180s.

View full details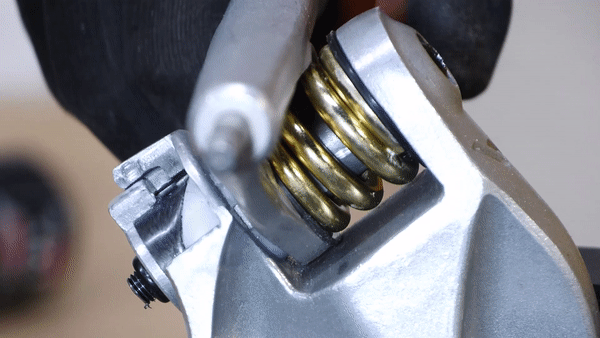 HST Trucks are different
Most skateboard trucks have flexible bushings which allow them to flex and rotate. Our patented HST Trucks use stiff springs and spherical wave cams that translate axle rotation into spring compression. These massive springs store the energy then give right it back to you. You don't need to lift the front to turn, just turn the board. HST trucks have smooth consistent rotations. The springs give strength and stability that enable the wheels to glide over road imperfections like you wouldn't believe.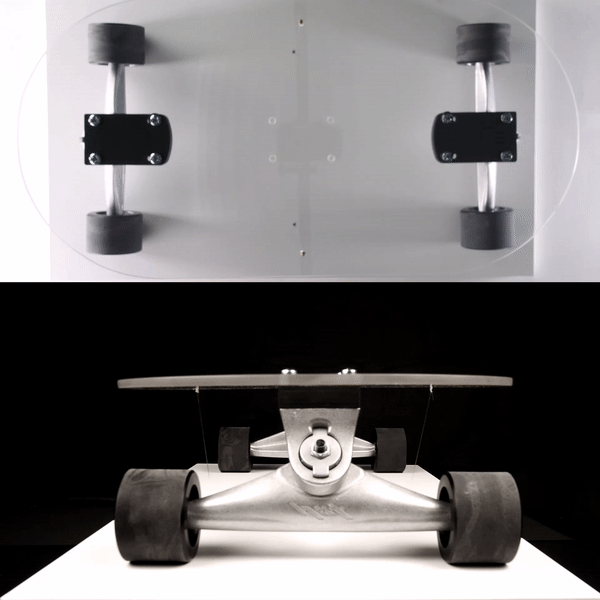 Rotation and Lean
Our patented HST Trucks were designed to simulate a surfboard on water. Do not expect them to feel like other skateboard trucks. They are so responsive that some people call them loose.

Our trucks rotate up to 20° in both directions and lean up to 30°. This movement is much greater than most other skateboard trucks.
When you turn on HST Trucks, you feel like you are riding on an airplane wing in a banked turn. You get the sense that you are riding on the edge of your board, much like it feels to ride on a snowboard or a surfboard.
They also give just enough of a snappy return to center and truly feel like surfing.
To learn more about HST trucks and our progressive truck system, click here.