Regular price
$ 239.99 USD
Regular price
$ 239.99 USD
Sale price
$ 239.99 USD
Unit price
per
Sale
Sold out
HST boards are not Hamboards. They are available exclusively on Amazon and select retailers.
These boards break from the Hamboards surf-feel mold, That's why we call them HST boards and not Hamboards. They have more traditional longboard decks and our patented HST trucks. The result feels like a cross between a snowboard and a skateboard. More carvy than a longboard but not as carvy as a Hamboard, with a nice little bounce out of the carves.

There are two different HST decks. The 40-inch dropdeck has a 1-inch drop and a slight concave which makes this deck a little stiffer. Longboard skateboard riders seem to prefer this deck.

The 38-inch cutaway longboard deck is flat, which gives it more flex. Snowboard riders say It feels like a snowboard on wheels.


Longboard Deck: 38.5 In. long, 9 in. wide
Dropdeck Deck: 40 in. long, 9.5 in. wide
Deck Material: Birch
Deck Rating: 7 Ply
Wheel Size: 70 Millimeters
Wheel Material: Polyurethane
Wheel Durometer: Hardness: 80A
Front Truck: HST 40° with 180mm hanger
Rear Truck: HST 20° with 180mm hanger
View full details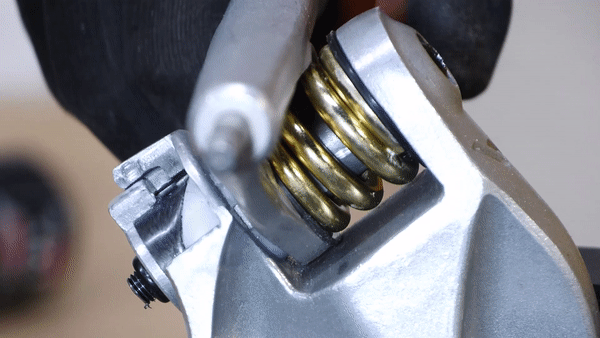 HST Trucks are different
Most skateboard trucks have flexible bushings which allow them to flex and rotate. Our patented HST Trucks use stiff springs and spherical wave cams that translate axle rotation into spring compression. These massive springs store the energy then give right it back to you. You don't need to lift the front to turn, just turn the board. HST trucks have smooth consistent rotations. The springs give strength and stability that enable the wheels to glide over road imperfections like you wouldn't believe.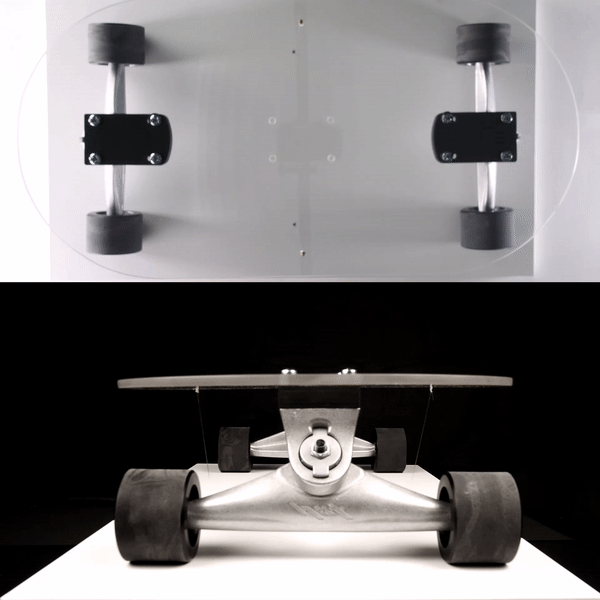 Rotation and Lean
Our patented HST Trucks were designed to simulate a surfboard on water. Do not expect them to feel like other skateboard trucks. They are so responsive that some people call them loose.

Our trucks rotate up to 20° in both directions and lean up to 30°. This movement is much greater than most other skateboard trucks.
When you turn on HST Trucks, you feel like you are riding on an airplane wing in a banked turn. You get the sense that you are riding on the edge of your board, much like it feels to ride on a snowboard or a surfboard.
They also give just enough of a snappy return to center and truly feel like surfing.
To learn more about HST trucks and our progressive truck system, click here.
Same Lean, Different Rotation
With our HST truck system, you can purchase trucks with three different pivot angles. You can see that our three baseplates provide the same amount of lean. You can also see that the 0° truck does not rotate at all. The 20° truck rotates about 10° in each direction and the 40° truck rotates about 20° in each direction .
Button label